Mud Season Isn't Only in the Mountains - Service Uniform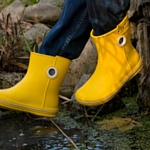 Guess what? Mud season isn't only in the mountains. As the ice and snow melt, mud will result anywhere there's dirt—and that's a lot of places. Are you prepared for the onslaught of mud this season? Here are a few ways to prepare!
Wear the right shoes. Do you own waterproof shoes that you can splash around in freely? It can be tough to splurge on shoes that will hold up in the sloshy mix of slush, snow, and mud that happens in mud season, but it is worth it. One less thing to worry about while you are walking down the street for a coffee!
Drive carefully. As everything melts it can seem like your chance to take on the roads again—but you should prepare to be careful, because the mud can be just as dangerous as ice when it comes to getting stuck on the road. Make sure you look out for muddy corners and don't park anywhere that looks like it could get you "stuck in the mud."
Have fun! Prepare yourself with the right attitude: mud-stomping can be fun! Once you accept that mud will make you dirty, you can dress yourself accordingly in old clothes and layers. Enjoy the mud season and make sure you get outside to revel in nature. Don't let the mud stop you!
Contact us to order an entryway mat today and stay clean!